The role of Insulation
Better insulation of buildings is a profitable way to reduce the CO2 emissions according to a study by McKinsey/Vattenfall; it is a low hanging fruit in combating climate change. Millions of tonnes of CO2 and fossil fuel can be saved by insulating our buildings.
This makes insulation a key climate technology. It can help reduce today's unnecessary waste of fossil fuels from buildings which are responsible for 40 % of the EU and US energy consumption and a major contributor to man-made CO2 emissions. The developing countries – struggling with energy poverty and air pollution – also has a need for buildings that waste less energy and emit less CO2
Technologies immediately at hand
Energy efficiency in buildings including the use of insulation systems, comprises technologies immediately at hand and holds the largest potential for profitable savings. The systems and products are well-known and have proven their efficiency. In other words, energy efficiency is a fruit ready to be picked.
This situation makes the following recommendations crucial for all countries
Buildings normally last, and pollute, for 50 years or more. Therefore you should use robust energy efficient technology for all new buildings
No renovation without insulation – bring all buildings undergoing modernisation up to at least contemporary energy standards. Or even better, up to very low energy levels which are app. 75 % lower than standard.
The Trias Energetica concept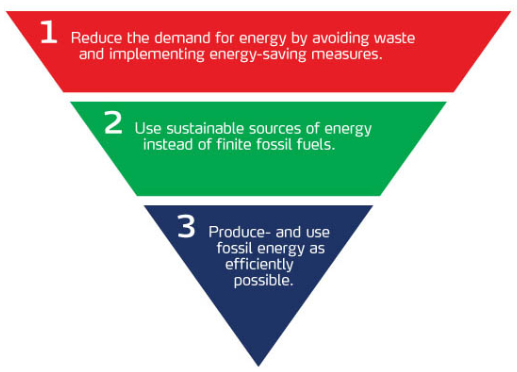 The most sustainable energy is saved energy
Benefits of low energy buildings
Today, low energy and very low energy buildings can be erected at reasonable prices. The price per m2 may still be higher than the initial costs of a traditional building, but the benefits of low energy buildings are significant and will over the years often out-weigh the extra costs. Lower energy bills and other non-energy benefits will – year after year – simply ensure lower life-time costs.
Low energy constructions are not reserved for single-family homes. The idea is gaining ground in all kinds of buildings such as primary schools, kindergartens, office buildings, exhibition centres, churches, factories, etc.